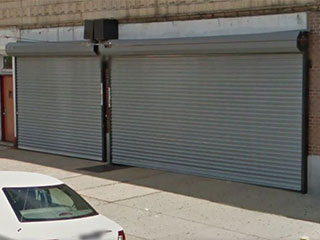 Garage doors come in a variety of shapes and sizes, but one of the most common types is the roll up door system. Just like any type of door, it has its share of advantages and disadvantages. Therefore, the best way to make sure it's a perfect fit for your home is to consult with our professional technicians before making a purchase.
What Is A Roll Up Garage Door?
As their name suggests, doors of this type do in fact rely on a rolling action in order to operate. They travel upwards and roll into themselves in order to open, and unfold downwards in order to close your garage. They are considered very convenient and easy to use, albeit their action can sometimes be a bit slower than that of an overhead door.
The Two Main Types
Unlike other types of systems, the roll up door has two different variations. The first has a sectional built, which means it consists of four or more horizontal panels that are attached together to create a complete slab. Doors of this type roll up onto the ceiling. The second variation is the rolling steel door, which consists of many horizontal slats that rise up and "rests", like a rolled up carpet, over the opening of the garage. Each type has its pros and cons when it comes to insulation levels, maintenance requirements, and reparability.
Different Materials Available
Just like any other type of system, roll up garage doors can be made from a few different materials, including wood, steel, and aluminum, with each material offering different benefits. Wood is more insulating, steel is more durable and aluminum is lighter in weight. Your choice of material will depend on your budget, as well as your local weather conditions.
The Main Advantage
Although roll up garage doors can be more expensive than simple overhead doors (depending on their material, of course) they do offer a great benefit. They are perfect for garages with limited backroom space. These systems require minimal space in order to be installed and to operate, so they can be a perfect choice for smaller homes, or for homeowners who like to store a lot of property inside their garage.
Call our experts at Garage Door Repair Moreno Valley if you're looking to get a new roll up garage door, or if you require any type of professional assistance.