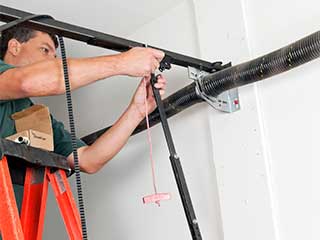 Although it can be tedious, if done regularly and correctly, garage door maintenance does not have to consume a lot of time. However, you can avoid the entire hassle by simply leaving it up to our professional team. Our experts have the right tools and the depth of knowledge required to perform even the most complicated maintenance tasks.
A Complete Examination
Making sure your door is safe to use is obviously very important. After performing a thorough inspection of your system, we'll have an overview of the current state of the door and all of its various parts. We'll then proceed to perform any necessary repairs, and replace any component that isn't functioning optimally.
Ensuring The Condition of The Springs
Seeing as your garage door spring are some of the most important parts of the system, our technicians make sure to give them some extra attention while performing our maintenance routine. We'll check their condition to see if they need to be replaced, then we'll perform some minor adjustments to make sure their tension is evenly distributed and that the door panels don't start tilting. We'll finish things off by applying the springs with the proper lubricant, to ensure their smooth and efficient operation.
Safety Testing The Opener
Since your garage door opener is the device that automates your system's performance, it requires some care and attention as well. We'll inspect its engine and circuit board, as well as its pulley system, to make sure nothing needs to be repaired or replaced. Then we'll proceed by conducting a few safety tests, focusing on the photo-electric eyes that are in charge of detecting an obstacle in the door's path. If these sensors have become misaligned, we'll straighten them back into proper position to ensure the safety of you and your family.
Schedule an Appointment
Safety checks, as well as timely replacements and repairs, are all necessary parts of a proper garage door maintenance routine. Give our team at Garage Door Repair Moreno Valley a call today. Alternatively, you can use our online scheduling system to set up an appointment.
In addition, we offer:
Part Replacement & Lubrication
Belt Drive Garage Door Openers
Oil Tempered Torsion Springs
New Garage Door Installation